written by:

Ahmed Rawdhan
Yemeni Agates

Yemeni Agate is part of the international agates as a precious stone consisting of chalcedony and quartz as its primary components, consisting of a wide variety of colors. Yemeni Agates are primarily formed within volcanic and metamorphic rocks. The name Yamani is given to any agate mined for in Yemen
what makes Yemeni Agates different
Yemeni Agate were famous since thousands of years for its highest quality and its variety of colors and types and also for its relation to the religious believes
In this page we re going to talk about some types of the Yemeni Agates available in the Yemeni, Arabic and international markets
Types of Yemeni Agates
Pictorial Yemeni Agates

Ice-color white Yemeni Agates

Cerasus-color Yemeni Agates

Liver-color Yemeni Agates

Yemeni Carnelian, Red Agates

Pomegranate-color Yemeni Agates

Orange-color Yemeni agates

Golden Yemeni Agates

Honey-color Yemeni Agates

Apricot-color Yemeni Agates

Dates-color Yemeni Agates

Yellow Yemeni Agates

Sharaf Ashams Yemeni Agates

Black Yemeni Agates

Shafat Al-abd Yemeni Agates

Sulaimani Yemeni Agates

Jaza Yemeni Agates

Eyes of Yemeni Agates

Dawoody Yemeni Agates

Dendritic Yemeni Agates

Moss Yemeni Agates

Needle Yemeni Agates

Sky-color Yemeni Agates

Yellow Yemeni Agates

Green Yemeni Agates

saffron-color Yemeni Agates

Yemeni Bloodstones

Baqrani Yemeni Agates

Murad Yemeni Agates

Ismael Yemeni Agates

Yemeni Jade
Provinces of Yemen in which Yemeni Agates are mined for
Dhamar Province

Sana'a Province

Ibb Province

Taiz Province

Shabwah Province

Some other provinces
Yemeni Agates are mostly mined for in a lot of areas in Anes mountains in Dhamar Province, like Alhan mountain in Hemiar , Bani khaled, Dhuran mountain, And also in Almanar and Asharq mountain. Also Yemeni Agates are mined for in some other places in Dhamar like Ans,....
Also Yemeni agates are mined for in other provinces like Sana'a, khawlan area, Ibb, Taiz and Shabwah
Forms of Yemeni Rough Agates
Yemeni Agates can be found in volcanic and metamorphic rocks after digging to different depths. They comes in a form of rocks in different shapes containing other impurities
Processes of preparing Yemeni Agate stones
Mining

Classification and selection of the suitable ones

Sawing and removing other impurities

Grinding and making the required shape

Polishing

Faceting

Heat treatment for Yemeni Carnelian
How to identify the original Yemeni Agates
we may be able to some degree identify the Yemeni Agates origin depending on some tips, like lab test to check color distribution in a stone, also colors of veins in stone.
Also, we can check the style of Yemeni grinding and Finally compare color to the famous Yemeni agate colors
Some tools and machines used for making Yemeni Agates
Sawing Machine : used for sawing Yemeni Agates using teethless sawing blade

Grinding machine: used for grinding Yemeni agates to make the desired shape like oval, round ,square and any other shape. It is used sometimes for polishing with sanding papers. This machine uses silicon or diamond grinding wheels with different grits

Tumbling machine: After grinding, stones with similar hardness are put wet inside tumbling machine with certain powders for sometime

Polishing powder: different types of powders in different grits are added to the tumbling machine for polishing Yemeni agates

Sanding powders: are used for polishing Yemeni agates instead of tumbling machine or as a part of tumbling processes

Forming and drilling machines for beads

Faceting machines used for making nice facets

Some required safety tools: it is important to put on face mask ,glasses and finger caps
Stores for selling lapidary tools in Yemen
Diamond World lapidary tools, sells tools and machines for Yemeni agates workshops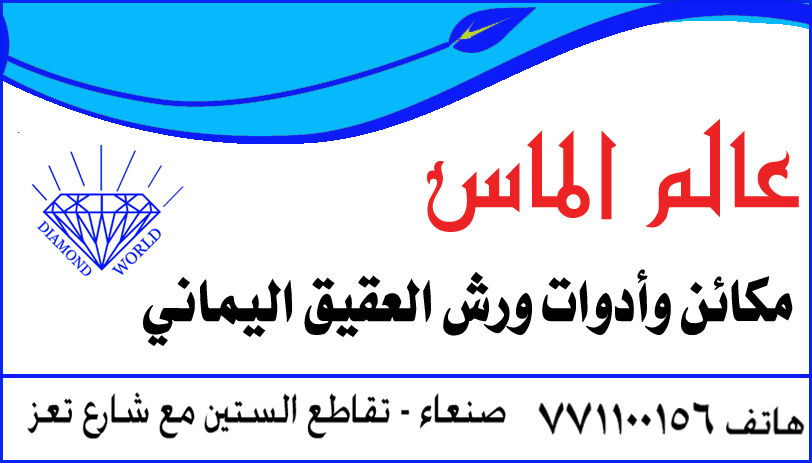 Yemeni Agates as mentioned in historical references
Yemeni Agates were mentioned in old Arabic books which talks about gemstones.They mentioned Yemeni agates types,uses and benefits.It was famous internationally for its beauty and high quality. It was used to make rings,pendants,bracelets,rosary beads,handles of swords and daggers,embroidering crowns and valuable masterpieces. Also some Ayats ,epics and drawings were engraved on Yemeni Agates
Abu Muhammad al-Hasan al-Hamdani, who died 893 AD, mentioned the Yemeni Agate in his book (The Description of the Arabian Peninsula)
(Yemen has buqran stones(banded Yemeni agates) which worth to much money. It has red layer, on white layer, on black layer, buqran has variery, and its mineral exists in Anes mountain which refers to Anes son of Alhan son of Malek. Sawani Agates from Sawan, valley near to Sana'a, it is black stone with white vein. Also in Shaharah. Ayshan from Hashed close to Hanoom and Dhulaimah and Aljamash from Hamdan. Also Aleshari, it is the sky-color from Ashar close to Sana'a, it has also crystals and Almusanna Agates which is used for making knives handles. Carnelian, red agates , yellow agates , muwasha and banded agates from Alhan. Another type of Yemeni agates Al-nuqumi which is Fahl Al orf, has Sawani and dhasri. Khawlani Agates, jerti agates from Authaiqah and Al Shazab used to make plates, stands and handles of knives and swrods, also Madahin and Qahfah ... etc
Abu Rayhan Al-Biruni who died in 1048 AD , mentioned in his book (Al-jamahir fi Marifat Al-jawahir) A geology manual of minerals and gems, he said in the section of Agates (its colors rate from whitish, to yellowish ,and reddish , then to blackish. Its mineral is in Sindh and Yemen).
He also motioned about agate ( It exists only in India and Yemen). He added (Some of agates come in reddish yellow color , polish and humidity, are called Rumi) My personal believe is that the writer mixed between Rumi and Romani which means pomegranate color because they have similarity in Arabic pronunciation and spelling but then he mentioned the Yemeni pomegranate color agates at following sections of his book.
He also mentioned some names of Yemeni agates to 6 types; Golden color, Pomegranate color, Red color, Apricot color, Rotab dates color and Tamar dates color
Ahmed al-Tifashi who died in 1253 AD mentioned in his book Al Ahjar Almoloukiyah (Agates are obtained from minerals in Aden and Sana'a and then brought to Sana'a city )
He mentioned that( Yemeni agates are of five types Red, dates color which is yellowish red, blue, black and white)
He said also that ( Onyx exists in minerals in Yemen)
Tifashi also mentioned in another book for him that Agates are found in Sana'a city of Yemen, and then exported to all countries) He named the five types of agates mentioned in his above book